Last year, I allowed my website domain and hosting to lapse and never renewed it! It had been largely abandoned and uncared-for for a long time.  In 2013, I have a LOT of plans to keep this site updated with all my exciting projects and hopefully it will lead to new creative collaborations.
To give myself a kick-start and ensure I'm on the right track, I will be traveling to London next week to attend The Blogcademy.  This two day workshop is hosted by three high-profile bloggers, Gala Darling (Gala Darling), Kat Williams (Rock n Roll Bride) and Shauna Haider (Nubby Twiglet) covering everything related to blogging strategy, branding and personality.
I am a big fan of Shauna's work  - as well as commissioning her to design my logo, I also bought two beautiful pieces of her art and Gala's podcasts have helped me make the leap from an office job to taking the leap to working for myself. Since myself and B got engaged in New York in 2012, we have been inspired by Kat's blog for wedding ideas.
Blogging is something I have always viewed as a chore, but I hope The Blogcademy will help change that perspective and give me a kick in the butt to be more consistent.
Brian is traveling to London with me and apart from the two-day workshop, I am really looking forward to being back in my favorite city. At this stage Hoxton is my second home. As we planned our trip late, there was no availability in our usual hotel The Hoxton, but we had a look at AirBnB and found a fab studio apartment nearby.
For me, a trip to London isn't complete without visits to the following places:
Open late and near our accommodation, The Diner is usually our regular spot for dinner on the night we arrive. Mainly for two reasons; their Wet Fries and I can order vodka with cherry coke. American diner food plus booze, could you ask for much more?
Sketch is a stunning restaurant near Oxford Circus. Famed for their individual egg-shaped pod toilets, I prefer their other toilets which must have been inspired by a gothic jewellery box; black glass walls studded with jewels, toilet seats and soap dispensers adorned with gothic crosses. Apart from the 'facilities', the food is incredible (although we prefer the lunch menu in the Drawing Room to the fine dining dinner menus) and the desserts are divine.
Cult make-up brand Illamasqua's flagship store is on Beak Street. As there are no longer any Illamasqua counters or shops in Ireland, I always visit the Beak Street store to check out new products and stock up!
There are two branches of Balans in Soho and both have saved us from starvation on visits to London. Serving food til the wee small hours, in a clubby atmosphere in the heart of Soho, Balans is the perfect place to dine and drink cocktails when everywhere else has stopped serving food. Expect to pay a cover charge on the door, but be thankful that the small charge ensures it's not overcrowded with drunk clubbers.
I love having an excuse to shop and from 2009 – 2011 most of our London trips had been in order to DJ at the Bizarre Balls.  Of course that meant that I HAT to give in to the need to buy new latex. Liberation is the Covent Garden boutique of latex designers and manufacturers Libidex. Libidex makes and sells good quality but reasonably priced latex and has a really great variety in store.
Atsuko Kudo (Formerly Show Girls) on Holloway Road stocks Atsuko Kudo couture latex clothing and a variety of other latex clothing and accessory brands. Bring your credit card, because Show Girls is not cheap, but you can always restrain yourself and limit your purchases to a cute hat, gloves or pasties!
Of course, there is so much we haven't seen, particularly the proper sights and tours, but while I would LOVE to visit the Harry Potter theme park, we will most likely be sticking with what we know on this flying trip!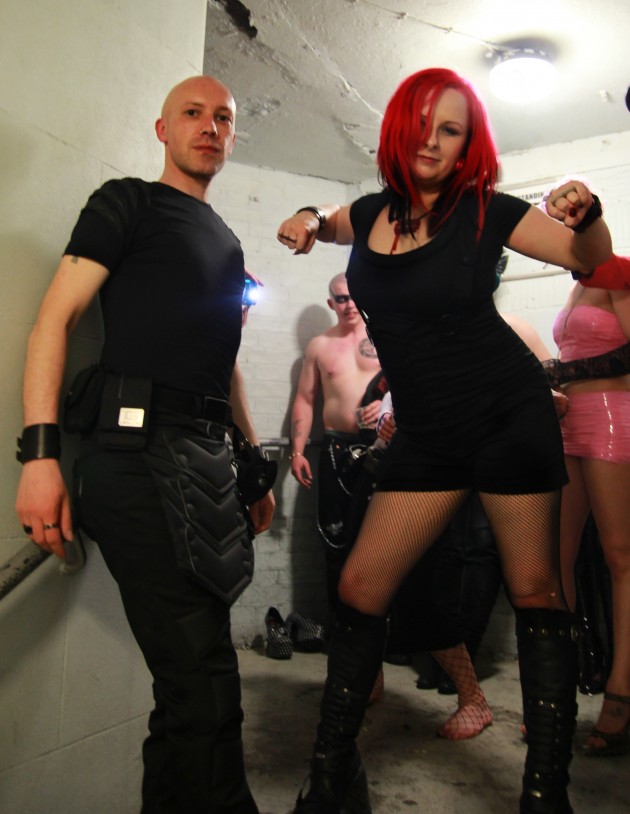 Bizarre Ball London 2011 – Photo by Mark Williams