In March 2012, myself and B went to New York to celebrate our ten-year anniversary.  As it coincided with my birthday, we couldn't imagine a better way to spend the day than attending the New York branch of Dr Sketchy's Anti Art School.  We spent the afternoon sketching the gorgeous performer Go-Go Amy and over drinks afterwards, I told Amy to let me know if she planned on visiting Ireland.  I've very excited because not only is she visiting, but she's bringing her entire show "Pretty Things Peepshow" along with her!
Burlesque in the US is a different flavour to burlesque from the UK and Ireland; the show will be less cabaret and more sideshow – which is right up my street.  The show will feature acts including sword swallowing, juggling, glass walking, whip cracking, comedy, magic, as well as classic burlesque.
Tickets to the show in The Twisted Pepper on 1st August are a steal at €12 if bought in advance from Bodytonic or €15 on the door.
Go-Go Amy will also be hosting a 2 hour long Pin up Workshop from 4-6pm in the Loft of The Twisted Pepper which will be open to all ages!  Advance tickets are available here.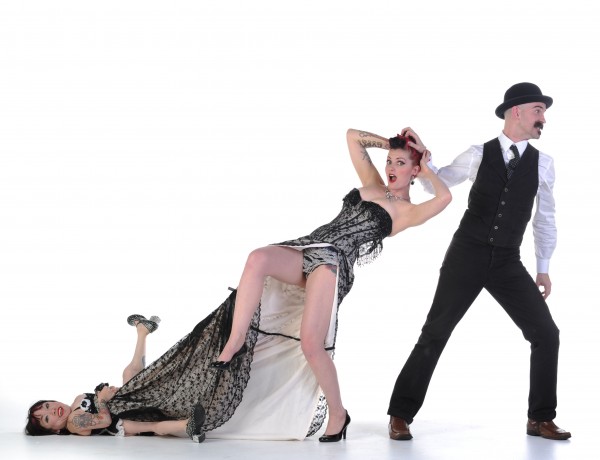 The Pretty Things Peepshow is the premier touring vaudeville show in the US and this summer it's coming to Dublin for ONE NIGHT ONLY!
This vintage variety show is filled with acts of the beautiful and bizarre. 22 thrilling acts, including sword swallowing, juggling, glass walking, whip cracking, comedy, magic, classic burlesque and more, make up an unforgettable night of heart-pounding glitz and glamour. The current cast includes the Impresario of Undress: Go-Go Amy, The Midget of Mischief: Lil Miss Firefly, The Pain Proof Princess: Rachel Renegade and The Dapper Dan of Danger: Mr. Donny V. So slip into your fanciest treads and grab your best gal and head on down see a show you'll be talking about for years to come.
CREDITS:
600+ US tour dates and counting. Full List of tour dates: www.prettythingsproductions.com/pasttourdates.html
OZZFEST 2010 with Motley Crüe, Rob Halford, and Ozzy Osborne
Harley Davidson's Thunder in the Rockies Festival with Foreigner
The Reaperbahn Festival – Hamburg, Germany
Christmas Market – Hamburg Germany
Wintersun Rockabilly Festival – Australia
Television appearances include:
NY INK
Celebrity Apprentice
Oddities
Miami Ink
Cake Boss
They have also appeared in music videos for:
The Red Hot Chili Peppers
Reverend Peyton's Big Damn Band