This morning, I woke up to an email from Azaria Starfire. It had been sent at 3am, an hour after I had chatted with her on Facebook telling her to get some rest! I forgive her for her late night emails though, because producing the first ever Miss Burlesque Ireland competition is the stuff of dreams and if I'm honest, I'm a little jealous, but mostly excited to be involved as a judge! There is no better woman to bring the prestigious show to our fair isle than performer, producer and all round amazing, glittery creature, Azaria Starfire. While living in Adelaide in 2011, Azaria competed in the Miss Burlesque Australia competition, winning the titles of Miss Burlesque Adelaide, Miss Burlesque Wild Card and Miss Fantastic. She also has a number of producing credits under her belt and I can imagine she will be a wonderful mentor and friend to the competitors.
I was especially honoured when Azaria asked me to be part of the judging panel for the event. My guilty pleasures are shows like America's Next Top Model, RuPaul's Drag Race, Ink Master, Project Runway… basically, anything with a judging panel. In reality though, I am thrilled to be part of an event that I feel will elevate the standard of burlesque performance in Ireland. The judging criteria is very exact and precise. With four different sections, each with their own rules and regulations, it just won't be possible for the performers to hide behind props or gimmicks.
As someone who (very, very briefly) took to the stage performing burlesque, I know just how difficult it is. I remember how time works differently when you're in the spotlight and that nothing compares to being well rehearsed for a routine (I never was!) In the four years that I have been producing Dr Sketchy's Anti Art School in Dublin and shows like The Black Rabbit Cabaret, Cabaret Caligari and Sedition Industries events, I have booked hundreds of acts to perform. I have seen acts that have blown me away and acts that have left me disappointed. More importantly, I have seen how audiences respond to aspects of performance. I have creatively directed performances, conceived ideas for acts and cut routines at the last possible moment that I knew weren't up to standard. This is going to be an exciting journey for all the competitors involved in the competition. The rules and judging criteria will push the performers to bring their sparkly, glittery "A" game. I look forward to watching them perform from the tips of their fingers to the tips of their toes, I hope to see every movement across the stage being a deliberate and choreographed movement. I hope LOTS of rehearsals and time limits on routines will weed out too much of what I call "faffing about" on stage – and I thoroughly look forward to judging the four 4 cornerstone moves of classic burlesque – Charisma, Uniqueness, Nerve and Talent!! Nope, sorry, that should be – The Bump, The Grind, The Shimmy and The Burlesque Walk!!
As a producer in a relatively small city, it won't surprise anyone that I know and have regularly booked some of the contestants for shows in the past. I can honestly say that I won't be playing favourites. I plan to judge each contestant purely on their performances on the night and not base my scores on anything that I have seen in the past. This is going to be one incredible show for one night only and I HIGHLY recommend buying a ticket early as I anticipate a sell out show. Check out the Miss Burlesque Ireland Facebook page for information about the eleven amazing finalists.
In the meantime, I need to lose a stone, find a fabulous outfit, but most importantly, find a catchphrase…
"I have Eleven talented performers standing before me, but I only have ten photos in my hands. These photos represent the ten of you that will still be in the running towards becoming Miss Burlesque Ireland."
"As you know in burlesque, one day you're in. And the next day, you're out…And that means you're out. Auf Wiedersehen."
"And girls… Don't f**k it up!"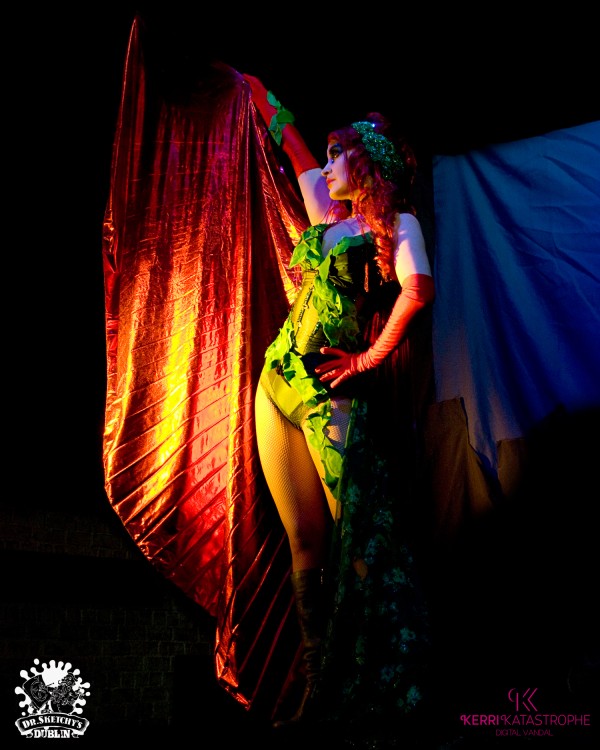 Photo by Kerri Katastrophe of Azaria as Poison Ivy
Featured image by Paul Cush for Miss Burlesque Australia