One of my resolutions for 2013 is to connect, collaborate and make plans in the early part of the year so I don't miss out on any exciting opportunities. With that in mind, last Wednesday, myself & Michelle Noir dropped into The Doorway Gallery to meet Denise Donnelly and discuss plans for Culture Night 2013.
If you haven't heard of Culture Night, it's an annual event driven by the Temple Bar Cultural Trust to promote culture and the arts.  Galleries and museums involved in Culture Night stay open until 10pm or later on a Friday evening and host special events to encourage families to enjoy new experiences.  All entrance fees are waived and complementary buses are provided throughout the city.
Denise approached me in 2010 hoping to have Dr Sketchy's sessions taking place throughout the night at her gallery space, which at the time was The Bad Art Gallery in Francis Street. The space itself was large and easily accommodated seating for artists and a staging area for the models.  Thousands of people passed through the doors of the gallery that night and were treated to live music and cabaret style life-drawing.   We chose a 'Betty Page' theme featuring models Michelle Noir and Postmodern Sleeze.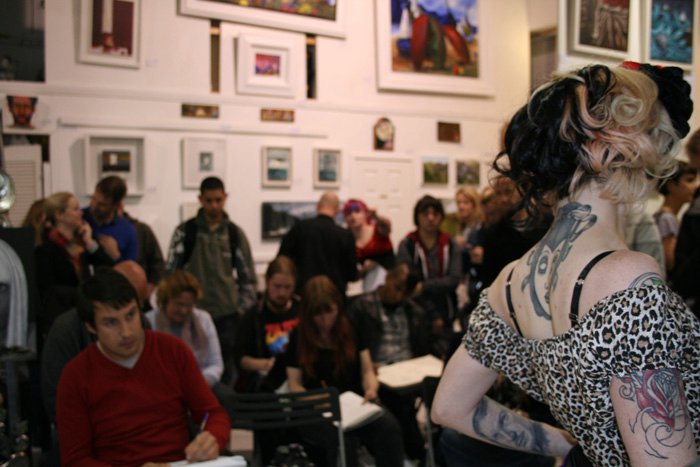 From that first time working with Denise, I had already warmed to her, she was easy-going but driven and very much trusted in my abilities to deliver.  When she asked me to be involved in Culture Night for a second year in 2011, I was delighted.  At this stage Dr Sketchy's Dublin branch had grown and had begun to incorporate live performances into each session, so we had a lot more to bring to the table. There was one minor hitch however; Denise had closed The Bad Art Gallery and opened a new gallery at new premises in South Frederick Street. The location was more centrally located, so we could hope for a higher footfall during Culture Night, but the space was spread out over two floors and really wasn't suitable for staging Dr Sketchy's sessions.
The solution? We close South Frederick Street to traffic for the night and set up an outdoor stage and marquee! Which is what we did! On next to no budget and with very little experience in events of this scale, together myself, Denise and our respective teams set up a little hub of art and performance at The Doorway Gallery, bursting out into the street!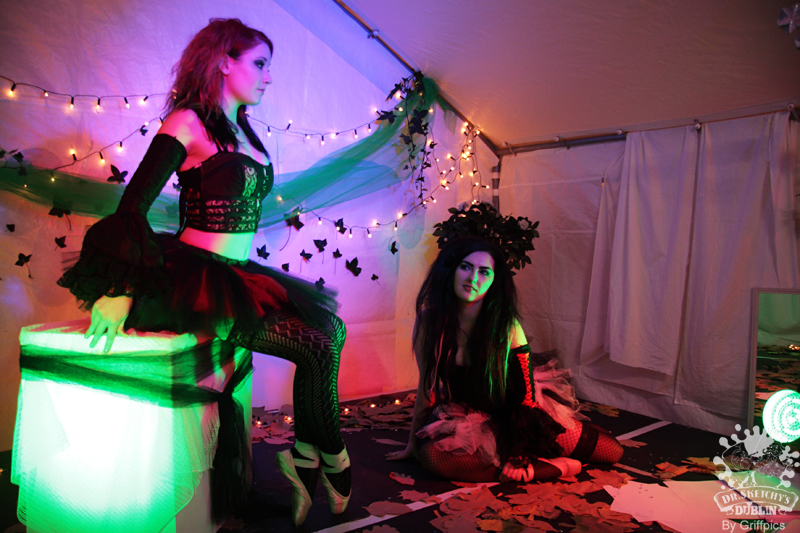 That's not to say that everything went off without a hitch, but each time we were faced with an obstacle, we somehow managed to overcome it.  For example, this is why Terri Fierce ended up doing a pole performance in the middle of the street instead of in the marquee – the pole wouldn't fit inside! Of course it ended up working to our advantage, as I drove home that evening, Twitter was full of incredulous tweets about the 'pole dancer in South Frederick Street'. We couldn't have planned that better!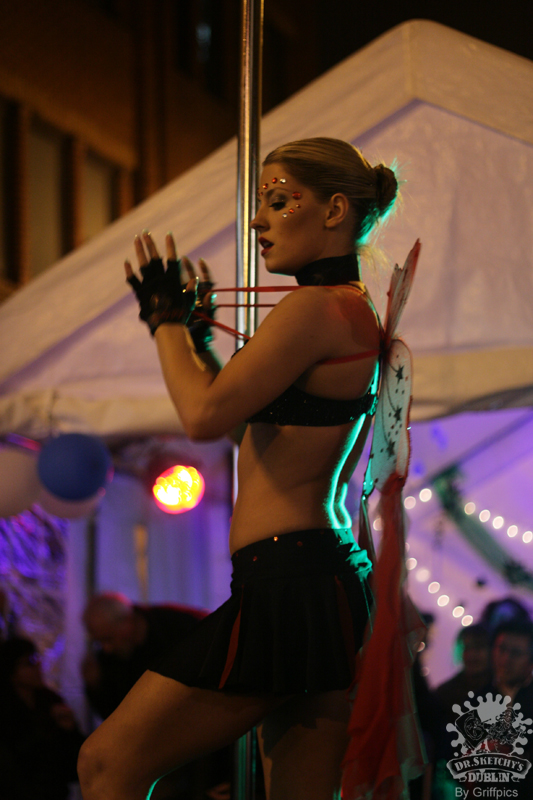 In 2012, we expected that the previous year's experience would ensure the next Culture Night we worked on together would be a breeze.  However we seemed to hit a lot more hitches than ever!  Not wanted to maintain the status quo, we decided to go bigger again.
More going on within the gallery, more going on outside the gallery. More = More things that could go wrong.  You can prepare for some things – like renting blow heaters to keep the models warm; but not for others – like said blow heaters tripping out and knocking out our sound systems and lighting. You can have the road closed and barriers arranged to rope off areas; but despite calls to the city council and Gardai, there's nothing you can do about the car parked right where you need to set up the marquee!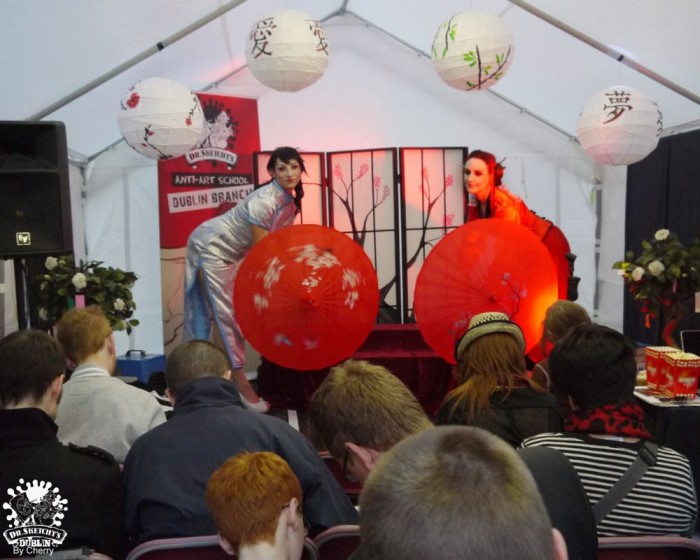 Hopefully, those hitches and others, weren't noticed by the thousands of people who joined us on South Frederick Street in 2012 for our most ambitious Culture Night to date. Martial Artists from Bujinkan Meehan Dojo performed Budo demonstrations in traditional style armour accompanied by Taiko drummers from  Taiseiyo Taiko Ireland, while inside the marquee, our models – burlesque performers Azaria Starfire & Sade O'Sapphic – wore Japanese-inspired costumes and posed and performed, followed by a host of musicians, tribal fusion bellydance from The Orchids and to top off the night, Terri Fierce arrived with her performing partner in DesireArts, Lisette and once again created an aerial spectacle performing on the pole in the middle of the street.
Inside the gallery, apart from the art on display, visitors were treated to live music from Alistair Elliman and band, a live painting demonstration from Róisín O'Farrell, as well as a workshop in being creative with paper by Caroline Lynch.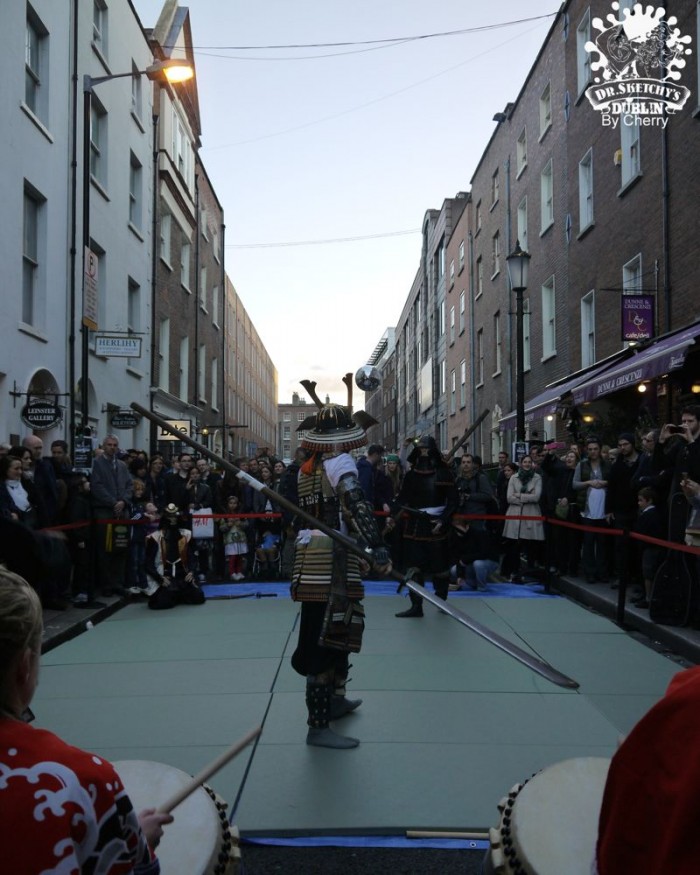 RTE News, The Independent and the Irish Times all included mentions of our events, which I think is really special considering the volume of events taking place throughout the city that one night.
I am incredibly grateful to everyone who has worked with me over the last few years on Culture Night, raising the bar each time. You will hopefully understand why we need to meet up so early this year to ensure we have time to achieve everything we have planned to make Culture Night 2013 in South Frederick Street one to remember!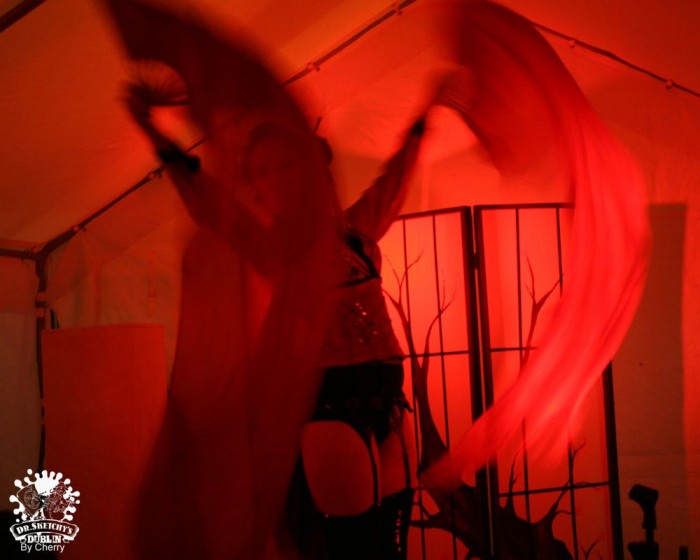 Photography by Griffpics and Kerri Cherry